Sr Solution Consultant
Job Description
Join the Team Making Possibilities Happen
If you've ever used an ATM, paid a bill through your phone, sent money to a friend or shopped online, chances are your transaction was safeguarded and processed using our software. Now it's your turn to serve the payment needs of organizations and people the world over.
As a Sr Solution Consultant in Tokyo (Japan), you will join a diverse, passionate team, dedicated to making possibilities happen in the payments industry!
This purpose of this ROLE is:
The Sr. Solution Consultant plays a key role in augmenting sales opportunities through understanding and addressing customer's key challenges and leveraging ACI solutions and technology. This role ensures that our customers and prospects maximize their long-term relationship with ACI and is critical in conveying the needs and opportunities in the marketplace to the Market Product Managers as we develop our solution product strategies and roadmaps.
Working with the Market Product Managers and Product Marketing, the Sr. Solution Consultant will help define the key value propositions for the targeted market segments. This role will work closely with the sales organization and third-party partners and apply the market segment value propositions in the development of account plans, value propositions, and long-term solution adoption strategies for ACI's customers and prospects.
The role requires in-depth industry business insight, an understanding of the strategic and long-term approach ACI's customers should execute when using our solutions, a strong grasp of how ACI's solutions can add real value for our customers, and an ability to work directly with new customers.
A typical day at ACI for a Sr Solution Consultant is:
Sales and Implementation
Participates as strategic product representative in end-to-end sales process and contributes to the development of specific opportunities.
Defines value propositions and long-term solution strategies for specific opportunities to assist Sales in progressing deals in line with strategic sales plans.
Successfully defines and obtains agreement regarding customer requirements.
Identifies business development opportunities through scoping customer and external industry engagements.
Identifies and provides advice and business consultancy to prospects/customers on solution design options and impacts of modifications on the existing system.
Ensures that all client business objectives are met as identified through the sales process and planned for in the implementation process.
Builds presentations, proposals, and papers designed to assist in the sales of product solutions.
Collaboratively works with other solution consultants, account representatives, customer managers, project managers, and the executive leadership team.
Develops value propositions within multiple industry and product families.
Works in an independent environment.
Works at an expert level for both product and industry in the sales arena.
Works on medium complexity accounts and opportunities.
Learning and Development
Creates and executes against an individual development plan with management support.
Strives for more competency development.
Desires and capitalizes on continual development in the workplace within their industry discipline.
Communication and Executive Presence
Contributes market perspective to development of solution/product roadmap and identifies and produces key value propositions (use cases) in their segment.
Supports Market Product Managers and Product Marketing in defining the unique differentiators for ACI solutions in the marketplace and development of the value map.
Maintains value proposition tool, algorithms, and KPI's, and updates ROI calculators by working with the Account Executive for their specific accounts.
Clearly indicates expertise through effective communication and strong business acumen.
Organizes and expresses business value and overcomes customer objections.
Perform other duties as assigned
Understand and adhere to all corporate policies to include but not limited to the ACI Code of Business Conduct and Ethics.
Knowledge, Skills and Experience needed to succeed in this role:
Minimum a Bachelor's Degree
3 years as "Subject Matter Expert" in specific market segment
5-12 years of experience in relevant industry sector
3-5 years consultative sales experience
Preferred Knowledge, Skills and Experience needed for the job:
Knowledge of multiple industry products and applications preferred
Understands how technology impacts business
Excellent written and oral communication
Strong problem solving and critical thinking skills
Ability to perform needs analysis & ROI analysis highly preferred
Ability to self-motivate and work independently with little supervision
Works effectively in team environment
Ability to use a personal computer with proficient skills in business applications such as Microsoft Office
Benefits: In return for your expertise, we offer growth, opportunity, and a competitive compensation and benefits package in a casual work environment.
Are you ready to help us transform the world of electronic payments? To learn more about ACI Worldwide, visit our web site at www.aciworldwide.com
ACI Worldwide is an AA/EEO employer in the United States, which includes providing equal opportunity for protected veterans and individuals with disabilities, and an EEO employer globally.
About Us
ACI Worldwide is a global leader in mission-critical, real-time payments software . Our proven, secure and scalable software solutions enable leading corporations, fintechs and financial disruptors to process and manage digital payments , power omni-commerce payments , present and process bill payments , and manage fraud and risk . We combine our global footprint with a local presence to drive the real-time digital transformation of payments and commerce.
Apply
Your application has been successfully submitted.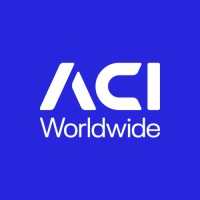 Real-Time Payments